On Friday 23rd June, Footgolf Devon hosted league event 4 which turned out to be one to remember. The course was in top-notch condition thanks to the efforts of Paul Hawkins and Sam Evans with each hole offering a unique challenge to players of all skill levels.
As the evening went on, we saw some really impressive shots from the players. Special mention to Joe Hawkins and Jamie Cottrell both managing to sink a hole in one on Hole 5 which was a real thrill to see. But even beyond those amazing shots, there were plenty of other great plays on the course. Many players had really good scores, and it was clear that everyone was having a great time. The atmosphere was electric and you could feel the players competitive streak was in the air as we start to get close to the half way point. The course was beautifully lit, which added to the ambiance of the evening. It was a truly memorable event.
Group One had Bobby Hopkinson, Tony Follett, Talan Annear, and guest footgolfer from Jurassic Footgolf Joe Carter participated in a footgolf group that was full of action and excitement. Bobby Hopkinson and Tony Follett are both experienced footgolfers and they are both known for their skill and precision on the course, and their scores of 62 reflect that. Talan Annear is a newer player who has been playing for just around a year or 2 now, but he has already shown a lot of promise. His score of 65 is a testament to his dedication, travel and hard work. Guest footgolfer Joe Carter is a friend of Footgolf Devon and was visiting from out of town. He had never played footgolf at the field of dreams, but he was eager to give it a try. Despite being a newcomer to the course, he held his own and scored a respectable 70.
There was a controversial moment involving Bobby Hopkinson on hole 17 The Cambridge. Bobby found himself in a bunker, and he attempted a unique shot that divided the group and caused debate among the Footgolf world about whether it was a legal shot or not.
The shot in question involved Bobby using his right foot in a pivot-like motion to lift the ball out of the bunker and onto the grass, and into the hole. While some people argued that this was an illegal move, others pointed out that there was nothing in the rules that specifically prohibited it. The debate continued on into the evening. Eventually, the course directors decided to consult the official rules of footgolf and also speak with some Footgolf Association of England elected members, to help determine whether the shot was legal or not.
After reviewing the rules, and also viewing a video re-enactment of the shot in question, although this was not the original footage or play,  it was determined that the shot was indeed illegal. The rules state that "the ball must not be moved in a bunker except as provided for in the Rules." As Bobby's shot involved moving the ball in a way that was not provided for in the rules, and also the shot would mean moving his standing leg, it was deemed to be a violation of the rules of footgolf.
While some players were still unhappy with the decision, the group and Bobby accepted the decision. While this was a tough decision to make, it served as a reminder of the importance of fair play and being consistent with the rules of the game. Despite the controversy, the group was able to move on and continue playing the match. The players all had a great time on the course, and their friendly and supportive attitudes made for a great atmosphere. They were all focused on doing their best and they showcased the skill and sportsmanship of all the players involved.
Group Two featured some incredible players, including the course owner Paul Hawkins, newcomer Shane Coffey, under 12's newcomer Oscar Coffey, and under 12's supreme Jake Cottrell. The match was incredibly competitive, with each player bringing their own unique skills and techniques to the game. Footgolf Devon's Paul Hawkins was a standout player and ultimately won the group with a  score of 68. Knowing Paul "Buzz" Hawkins though, he will be looking to improve on this score in the coming weeks and with his accuracy and precision on the course and deep understanding of the game his scores will only get better and better. Newcomer Shane Coffey also put on an impressive display, scoring a 71 in his first-ever footgolf match. Despite being new to the game, Shane showed incredible skill and determination on the course, and it was clear that he was a natural athlete.
The under 12's newcomers also put on an impressive display, with Oscar Coffey scoring an 83 and Jake Cottrell scoring a 78. Despite their young age, both Oscar and Jake showed incredible skill and composure on the course, and it was clear that they had a bright future ahead of them in the sport.
Footgolf Devon's Sam Evans, newcomer Daniel Bealey, and under 12's players Max Bealey and Oliver Bealey made up group three. Sam Evans hit a score of 69 (+3) which he will be disappointed with. Despite showing some incredible skill and technique on the course, Sam was unable to capitalize on his opportunities and ultimately fell short of his goal. Nonetheless, his performance was admirable, and it was clear that he had a deep understanding of the game. Newcomer Daniel Bealey, on the other hand, put on an incredible display, scoring an impressive 69 in his first-ever footgolf match. Daniel showed incredible skill and determination on the course, and it was clear that he was a natural footgolfer. His accuracy and precision were truly remarkable, and it was a pleasure to watch him compete. Under 12's player Max Bealey also put on an admirable performance, scoring a 98 on his debut on a challenging course. Despite his young age, Max showed incredible skill and composure on the course, and it was clear that he was a talented player with a bright future. Also making his debut was under 12's Oliver Bealey who showcased his incredible skill and technique, hitting some truly remarkable shots from the adult tee markers that left the rest of the Footgolf ground in awe. He shot an 84 from the adult tees
Group 5 hosted under 16's player Freddie Ansley, his dad Brett Ansley, Joe Hawkins, and Steve Parry in a thrilling and highly competitive event that showcased the incredible skill and athleticism of each player. Making his Footgolf Devon debut. Freddie Ansley demonstrated impressive accuracy on the windy course, scoring a 77. He has the skill and ability to be a contender for the under 16 championship and we have no doubt with his skill set, Freddie has what it takes to challenge for top spot. Brett Ansley, Freddie's dad, also delivered an impressive performance, scoring a 73 that showcased his weeks of experience and dedication to the sport. His skill and technique is beginning to improve and will be a definite contender when all the skills come together
Joe Hawkins hit an impressive score of 70, demonstrating his incredible skill on the course. Joe's highlight of the day was getting an hole in one on hole 5. He had been playing an up and down round of footgolf up until this point, and was moving onto hole 5 after a forgettable 7 on the Island Hopper (Hole 4), however his tee off on hole 5 was truly something special. Joe carefully lined up his shot, taking into account the distance, wind, and other factors that could affect the ball's trajectory. He then swung his foot with precision and accuracy, sending the ball soaring through the air and onto the green. The ball bounced once, then rolled smoothly across the green and into the hole, sending onlookers into a frenzy of cheers and applause. It was a truly incredible moment, and one that Joe will never forget.
Finally, Steve Parry delivered the best performance of the night, hitting an impressive but standard score of 61 for him. This was a testament to his incredible ability and precision once again. His deep understanding of the game was evident in his performance, and he demonstrated a level of skill that was truly remarkable and why he is many people's favourite to be crowned champion for 2023.
Next out was group five which was full of passionate footgolfers all looking to play an exhilarating game of footgolf. The game was filled with excitement, as Luke Coombes, Justin Hunt, Jamie Cottrell and Gary Fisher showcased their skills and competed for the top positions on the leaderboard. The group began with a bang as Gary Fisher hit a stunning tee shot that sailed down the fairway, landing perfectly with a clear sight of the flag. He continued to play with precision and accuracy throughout the game, hitting shot after shot with ease and finishing with an impressive score of 63, which left the other players in awe. Luke Coombes was hot on Gary's heels to begin with and he quickly proved himself to be a formidable opponent. He hit several impressive shots that landed him close to the hole, and he managed to sink several difficult putts but couldn't keep up with Fisher who by hole 9 was out of sight. Luke finished the game with a score of 72. Coombesy is still new to the game and will be looking to drop that score down in the coming weeks Justin Hunt also played an impressive game, hitting several long shots that sailed through the air and landed perfectly on the green. He struggled with a few difficult holes, but managed to recover quickly and finish the game with a score of 75. Justin's competitive spirit was infectious, and he motivated the other players to push themselves to do their best.
Jamie Cottrell's score may have been different if it was for some unlucky rolls on the 18th hole which he ended up with a score of 79. Despite this setback, he remained in good spirits throughout the game, cheering on his friends and enjoying the friendly competition. Jamie's positive attitude was a reminder of the importance of sportsmanship and enjoying the game, no matter the outcome. Despite the difficultly on hole 18, Jamie managed to accomplish something truly amazing: he hit a hole-in-one on the fifth hole. This is an exceptional feat, as very few players have been able to achieve it despite being named "The Hole In One". Jamie's shot was executed to perfection, with the ball soaring through the air and landing with a couple of bounces and slight curve which went directly in the hole. The other players were left stunned by the incredible shot, and they congratulated Jamie on his remarkable achievement. Jamie was overjoyed by his success, feeling a deep sense of pride and accomplishment that he had never experienced before at the field of dreams. He savored the moment, basking in the glory of his incredible accomplishment. It was a true testament to his skills and dedication, and it cemented his reputation as one of the most up-coming talented footgolfers on the course.
Group six was a group of 3 players with Tomas Brown and James O'Keefe both putting up an impressive score of 72 which demonstrating their incredible talent and skill on the course. They both expertly navigated the challenging terrain and made shot after shot with precision and accuracy. Tomas was unlucky to not have a better score on the night with some shots and approach shots just not landing how Tomas wanted Meanwhile, Under 16 challenger Callum Yeates was making his Footgolf Devon debut, and he put up an outstanding score of 65. His shots were consistently accurate, and he expertly navigated the tricky windy conditions to come out on top. Callum's performance was particularly noteworthy given that it was his first time playing in the Footgolf Devon league, as he continues to demonstrated a natural talent for the sport.
The final group out had Justin Yeates who put up an impressive score of 65, like his son Callum, Justin also demonstrating his natural talent and skill on the course. He expertly navigated the challenging thick rough and made difficult shots look easy  with precision, skill and accuracy. Justin's consistent performances at the Field of dreams shows why he is a player in form and one to watch for the title. Jensen Black, our regular under 12's player, faced a tough challenge on the course and ultimately scored a 92. Despite the difficult conditions, Jensen never gave up and remained focused throughout the match. His determination and perseverance were admirable, and he received praise from his fellow players for his impressive effort and made sure he looked good for the cameras Mark Flay also put up an impressive score of 77, although he is yet to get under 70. Mark's performance was tough and he is just looking for that big of consistent accuracy and precision, which will come. His skill on the course was evident though and he is sure to be a force to be reckoned with in future Footgolf matches. Finally, a newcomer to the under 16's category, Will Lugg, went round in 74. Will demonstrated a natural talent for the sport, and his performance was marked as a successful debut. His shots were consistently on target, and with a bit of practice, will definitely be a player within the league.
Overall, it was an tense but exciting event, with plenty of impressive performances from all the players. There  was a brief dispute over Bobby Hopkinson's bunker shot, despite this, the players ultimately agreed to move on and continue the match, demonstrating their sportsmanship and commitment to the game. Steve Parry shone once again with the score of the night, as did Joe Hawkins & Jamie Cottrell, who both hit a hole-in-one. All players demonstrated their natural talent and skill on the course, and their performances were marked by their accuracy, precision, and determination. The event was a testament to the growing popularity of Footgolf in the Southwest , and it's clear that the sport is here to stay.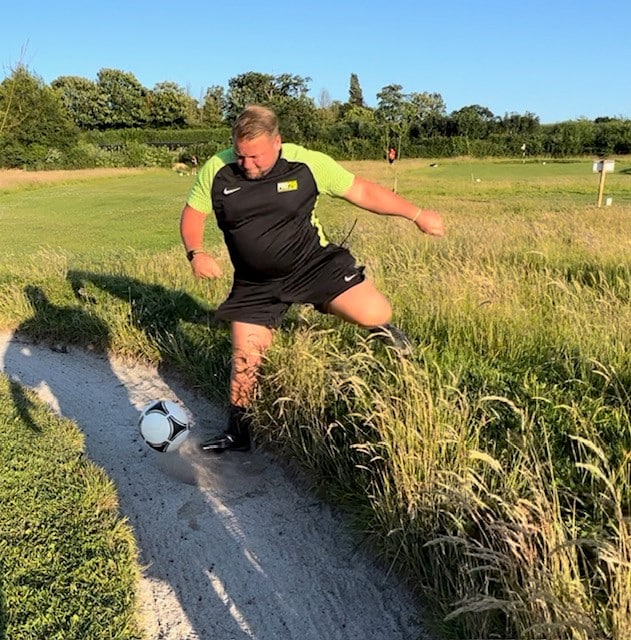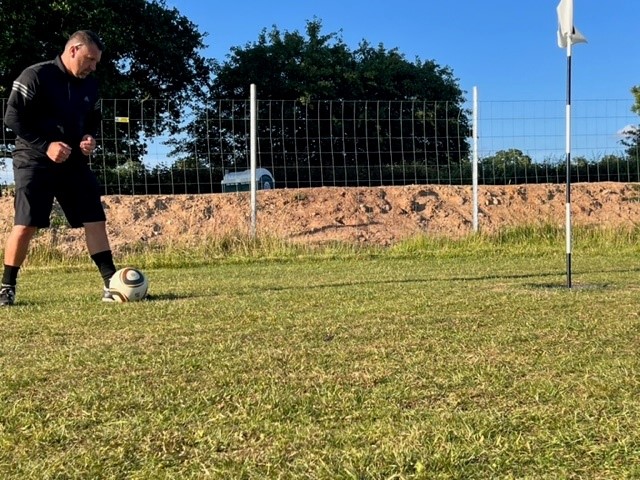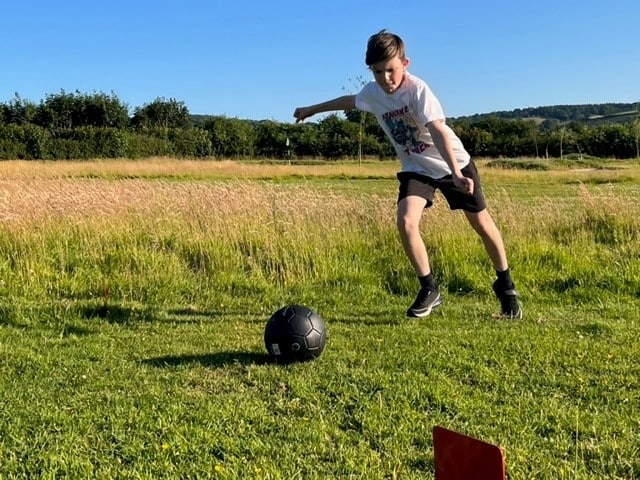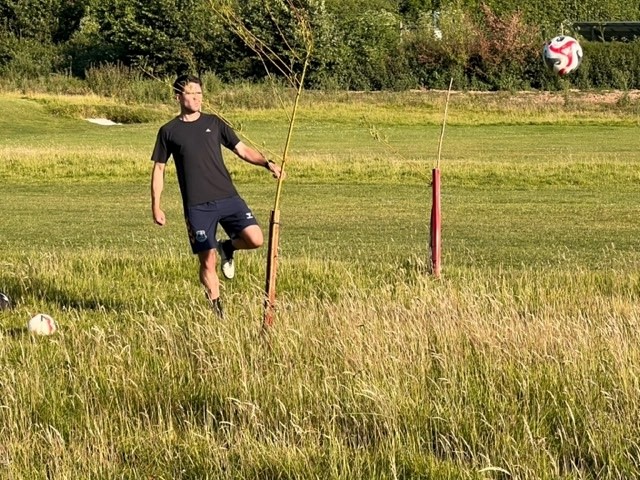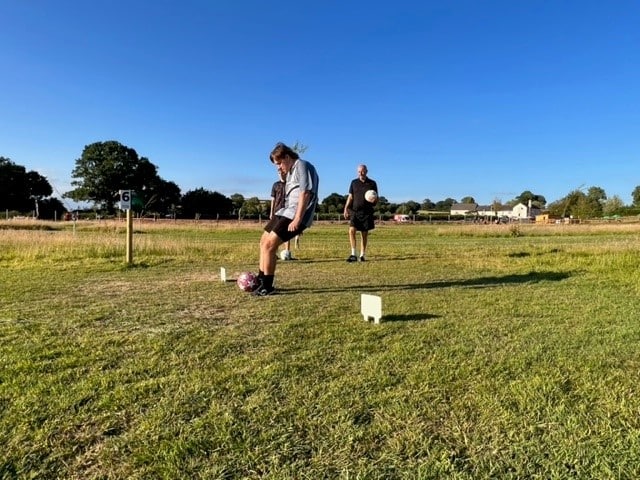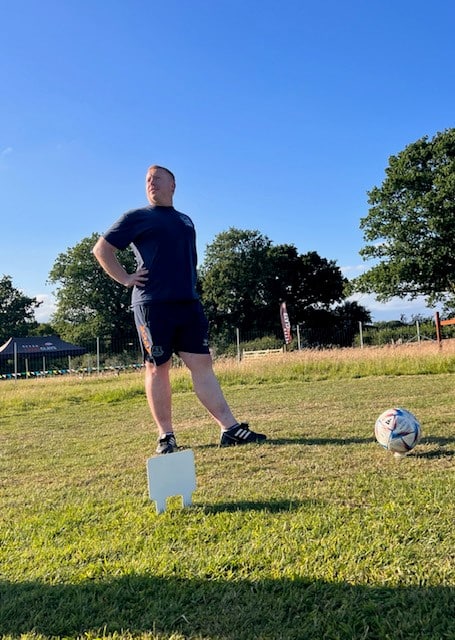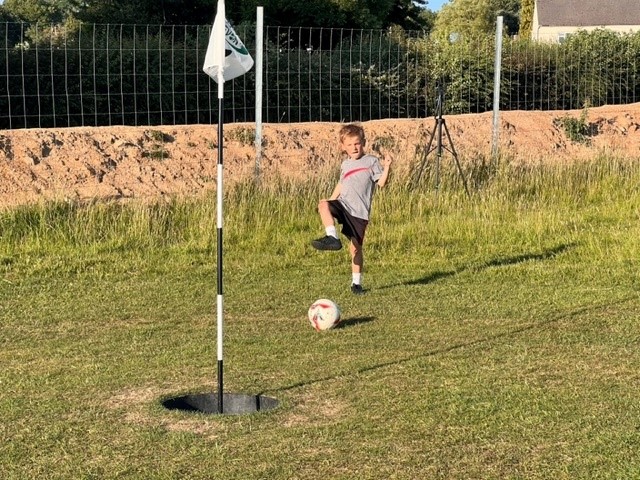 Join us again ….next week …the 30th June for more Footgolf Devon league action …where we are becoming the Footgolf revolution in the Southwest